Condos, Townhouses and Co-Ops – What's the Difference?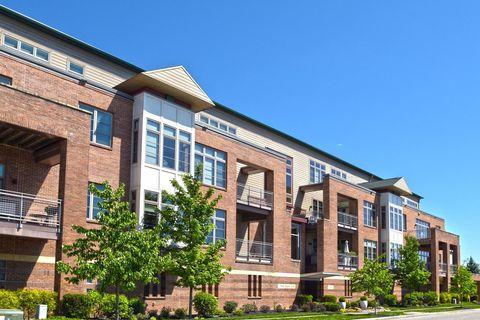 The time has come: you've scrimped and saved long enough and have decided to enter the West Chester or Liberty Township housing market. CONGRATS! Most people who hit this stage start their search by looking for a detached single-family home.
But what if a traditional West Chester or Liberty Township home for sale just isn't for you? Well, it may be time to consider a few other possibilities: a condo, a townhouse or even a co-op.
These housing types are often more suitable for first-time homebuyers. While they sound similar, they are not exactly the same. There are legal and lifestyles differences separating these options.
West Chester and Liberty Township Condos
Condos are often newer and more modern than detached homes. Condos are most commonly located in urban environments – take a look around Cincinnati and you'll see condo projects popping up all over the place! Condos are less common in West Chester and Liberty Township, but they do exist. There are a few on the market right now for as little as $67,900. At the higher end of the market, West Chester and Liberty Township condos for sale can run over $250,000.
Condos are appealing to home buyers who want to live in a specific community but at a fraction of the cost.
In a nutshell, this is how condo ownership works: you own the interior of the building, but not the walls on the outside of the home. You don't own the land the condominium complex sits on. You can't decide to knock down your condo and build it anew, or add on a second or third story like you might be able to with a single-family property. In fact, depending on the condo complex you might not even be able to change the paint color on the outside of your home, or even the color of your front door!
But there are tradeoffs: you aren't responsible for the major repairs (e.g. a new roof) and routine maintenance the way the homeowners are when they own a detached property.
Condos are similar to townhouses in that you and the other residents have a shared ownership of other areas in the development. Residents enjoy a shared ownership of amenities such as swimming pool areas, pathways, green space, vegetation and parking spaces. These are fantastic perks that many first-time homebuyers wouldn't be able to afford (or maintain) on their own single-family property.
West Chester and Liberty Township Townhouses
So what's the difference between a condo and a townhouse? With a townhouse, you own the roof, exterior walls and the land it sits on. Townhouses usually have shared walls with accompanying townhouses. You can plant what you want, paint what you want or have any style of roof you choose. A townhouse can feel less like an apartment and more like a small, attached house.
With both, you will have to share just about everything outside in the common areas with your neighbors.
Right now there are actually no official townhouses for sale in either West Chester or Liberty Township, OH. That said, sometimes townhouses are actually marketed as condos in the official MLS listings, so if you browse West Chester and Liberty Township condos for sale you might actually come across a townhouse!

West Chester and Liberty Township Co-Ops
Co-ops are a whole different ballgame. Although they look like condos and townhouses from the outside, when buying into a co-op you aren't really "buying" a specific unit. Instead, you're buying a share of the management team that owns it.
The more shares you own, typically the larger the unit is that you'll get to live in.
Like condo and townhouse associations, co-ops usually have list of rules and regulations they require shareholders to abide by. There might be restrictions on things like pets, or specific guidelines about whether units can be subleased, for how long and to whom. In addition, a co-op's board of directors usually has to approve new co-op buyers, unlike condos and townhouses where the deal is between you and an individual seller.
Another downside to co-ops is that association fees tend to be higher because they include the costs of services on the inside – from management fees to the costs for heat, gas and hot water. A tradeoff, though, is that the cost to buy into a co-op is usually less expensive than the down payment required for a condo or townhouse.
Co-ops are actually rare in Butler County. Co-ops are more commonly found in urban areas like New York City or San Francisco. In all of my years as a West Chester and Liberty Township real estate agent, I've yet to come across a co-op here at the local level!
So which option is best for you?
It largely depends on your current life status, your living expectations/values, investment priorities and whether you're looking to live in one place for a long time or for just a short while.
There's attractiveness to each of these three options, but significant nuances between property types that are important to consider as you evaluate West Chester and Liberty Township real estate for sale.
Interested in learning more? Give me a shout! As one of the top real estate agents in West Chester and Liberty Township, OH, I've worked with a number of first-time homebuyers just like yourself. I'd be happy to have a no-obligation conversation to help you explore your options in greater detail.