The Most Common Mistake Buyers Make when Buying New Construction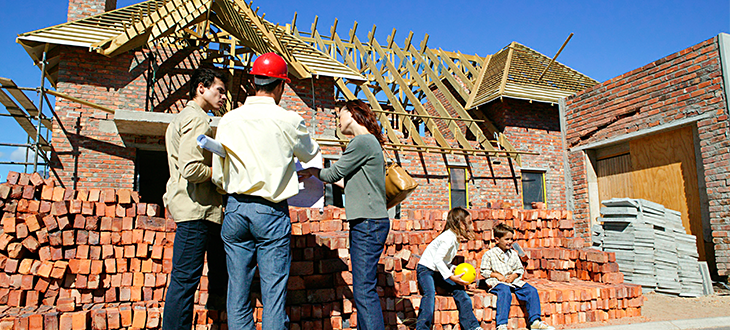 Buying a brand new West Chester or Liberty Township home can be an exhilarating experience. Sometimes builders will let you be involved in the construction process, making tweaks to the design or layout that meet your family's needs. Almost always, you'll be able to have a say in the finishes—like the cabinetry, lighting and paint schemes. New construction gives West Chester and Liberty Township homebuyers the opportunity to add their personal touches before they even move in!
But some homebuyers get so caught up in the excitement of buying a brand new West Chester or Liberty Township home for sale that they make a major mistake: not hiring their own real estate agent.
Most buyers assume that the builder's rep will help them purchase their new home. They might also (falsely) assume that working with the builder's sales office will save money. This is because builders' agents frequently promise customers a number of "discounts" if they buy directly through the sales office. The sales rep might also offer to connect you with the builder's lender, who – if you use them – might be able to get you a mortgage at a lower rate with fewer fees.
Lower costs and a streamlined closing process – seems like a no brainer, right? Wrong! The biggest mistake buyers of new construction make is not using their own real estate agent. Here's why:
The builder's rep has the builder's best interests in mind. When you work directly with the builder's rep, you are foregoing the undivided loyalty and guidance you'd get from having your own West Chester or Liberty Township real estate agent.
Let's use a simple basketball analogy to drive this point home: a buyer's agent is like a coach; the builder's sales rep is like a referee. With the clock ticking down during a championship game, your coach can call a time out to advise the team on how to run its final play. The referee cannot call a time out for you because they are managing the game for both sides. Buying a West Chester or Liberty Township home is a huge financial commitment—you're going to want to have a coach on your side.
Using a West Chester or Liberty Township buyer's agent ensures you have someone with knowledge and expertise by your side through the entire home buying process. They'll help you with a range of activities, including (but not limited to!): touring multiple properties, submitting an offer, negotiating a sales price and other concessions, arranging a home inspection, and setting up the closing. The home buying process can be daunting, especially if you're buying a new build where last minute changes and surprises are common. An experienced agent will know how to navigate any unexpected complications.

Builders' contracts can be long and complicated. A buyer's agent, particularly one experienced with new construction, will know what questions to ask and what clauses to look for before you submit an offer, and will likely include language in the offer that states the offer is contingent upon your attorney's satisfactory review of the builder's contract and related documents.

Your West Chester or Liberty Township real estate agent can help you sort through options and upgrade alternatives. Sure, you have your own style and preferences. But someone who is inexperienced with home building may not fully understand what upgrades are worth it. For example, you may not need a 3-car garage but if 80% of West Chester and Liberty Township homes have this feature, you'll probably want to spring for the upgrade to protect resale value.

What about all of those "discounts" the builder's sales rep offered you? Well, it turns out that many of those "discounts" aren't really discounts after, all. The "cost savings" are typically baked into the price elsewhere, through things like higher sales prices and marked up fees on the front end disguised so the sales rep can offer you "discounts" on the back end. Using a West Chester or Liberty Township realtor can save you even more money when all is said and done.
There are so many benefits to using your own agent when purchasing a new build. If somehow you aren't convinced just yet, here's the icing on the cake:
Hiring your own West Chester or Liberty Township real estate agent doesn't cost a thing! Most buyers don't realize that it is standard practice for both the buyer's agent, seller's agents and/or any transaction agent to be paid their commission by the seller. In the unlikely event that the builder is unwilling to pay a commission to buyers' agents (typically, equivalent to 2-3% of the property's sale price), you can negotiate that fee be deducted from the sales price so you can pay your agent directly.
Of course, always be sure to spend some time interviewing West Chester and Liberty Township real estate agents. Look for someone that has experience with new construction. Ask them specific questions, like how many new construction homes they've sold in the past, and whether they have relationships with lenders who specialize in new construction loans.
And why is new construction experience so important? Well, an agent who has sold new builds will be able to give you advice on the contractor's workmanship, and will be able to point out whether any corners have been cut. They'll be able identify any "builder fallacies" about pricing and area information, taxes, etc. And they'll know how to negotiate warranties and other buyer protections that are common when purchasing newly built homes.