Fall Maintenance Tips for West Chester and Liberty Township Homeowners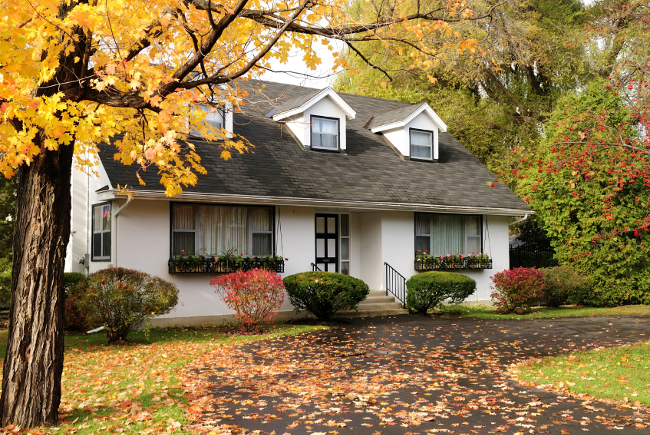 We can already feel the summer heat fading into fall – and this means it's time for West Chester and Liberty Township homeowners to start prepping for the winter months. Cold, wet weather can take its toll on your property, the last thing you need when prepping a West Chester or Liberty Township home for sale!
Here's a look at some of the fall maintenance tips that will give West Chester and Liberty Township homeowners peace of mind in the months ahead.
Clear gutters and ensure proper drainage.
With the weather changing, trees are inevitably going to begin to shed their leaves. Those leaves are a likely culprit in clogged gutters, and can cause the pooling of water and worse—costly roof damage. Use a scraper or trowel to clean your rain gutters of leaves and other debris, and then rinse them with a hose to ensure the gutters and downspouts drain freely.
This is also a good time to check drainage around your West Chester or Liberty Township house for sale. Be sure that drains are graded properly around the perimeter of the home so water doesn't collect around the foundation, causing erosion or leaks in the basement.
Prepare the yard.
You'll want to rake leaves and tree debris as the fall carries on. After all, the yard is one of the first things buyers see when shopping for West Chester and Liberty Township real estate! But don't forget about other routine yard maintenance: trim unwieldy branches, manicure the hedges one last time, fertilize the grass, and remove plants or roots that may impact siding, outdoor patios or brick walkways.
Check all doors and windows.
The seams and weather stripping around doors and windows can leak hot air and drive up heating costs. To check for possible leakage, turn on any exhaust fans in the home (such as bathroom fans or oven hoods), and then carefully move a lit candle around the seams of the doors and windows. If the flame flickers or the smoke shifts, then air is leaking (either in or out).
Depending on how severe the leakage is, you might consider sealing cracks with caulk or you might want to replace windows entirely. Remember that new windows, when necessary, add value to West Chester and Liberty Township homes for sale!
Get heating systems warm and ready.
Make sure vents are clear, filters are in good condition and the heating system is in good working order. If your Butler County, OH home for sale has a gas-fired water heater, cut heating costs by insulating tanks to keep water warmer for longer. Insulating wraps can be found at most home stores and come with installation instructions. While you're at it, consider draining your water heater. Flushing the system once a year removes sediment from the tank that can cause it to work harder and cost more to use. West Chester and Liberty Township homebuyers will appreciate you taking this extra effort.
Focus on fire safety.
Believe it or not, more home fire happen during the winter than any other time of the year. The last thing homeowners need to worry about is a fire when they're prepping their West Chester or Liberty Township house for sale. Replace all batteries in smoke detectors and test them to ensure they work properly.

If your home has a functional fireplace or wood stove, now is the time for a good old-fashioned chimney sweep. Investigate all vents and flue operation to make sure cold air doesn't get in, and smoke from the fire can get out. Check the chimney cap and caulking between the cap and chimney to prevent any obstructions; birds tend to build their nest in chimneys! And of course, don't forget to check carbon monoxide detectors while you're at it.
Does all of this fall maintenance seem daunting? Consider outsourcing some of the work. There are a number of fantastic contractors in the West Chester and Liberty Township area.
And remember: the sooner you start chipping away at these fall maintenance must-dos, the sooner you'll be able to kick back, relax, and watch a little football!