How to Identify Overpriced West Chester and Liberty Township Homes for Sale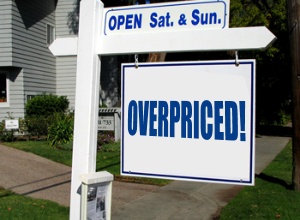 We've been talking a lot lately about how steamy the West Chester and Liberty Township, OH real estate market has been so far this year, and it shows no signs of slowing down! So if you're in the market for West Chester or Liberty Township houses for sale, how can you tell whether a place is overpriced?

Here are a few tips as you set out in search for real estate for sale in Butler County, OH.
#1 - Compare the property to others in the neighborhood.
A common homebuyer mistake is to look at a West Chester or Liberty Township home for sale's assessed value. If the home is assessed for $250,000 and a seller has listed his or her property for more than that, you might incorrectly assume the property is overpriced. In reality, the assessor's database is only a guide. Typically this data is way out of date. A better indicator of a West Chester or Liberty Township home's value is what like properties are selling for in the same neighborhood, or what we in the real estate industry call "comps".
Looking at comps should always be your first step. There are plenty of websites online nowadays that show you data about houses that are on the market, as well as data from recent sales. Consider several homes that are like the West Chester or Liberty Township home for sale that you want to buy and then compare prices. You'll have to account for differences in condition – e.g. one has an extra bathroom, or one sits on a larger lot – both of which add value. If you're working with one of the top West Chester or Liberty Township real estate agents, this is one of the first things they should do for you.
#2 - See how long the house has been on the market.
Another sign of an overpriced home is the number of days it has been sitting on the market, or "days on market" (DOM), a common real estate term. As a general rule of thumb, appropriately priced homes should sell in a short period of time (between 4-6 weeks, at most). In a seller's market like we're in today, West Chester and Liberty Township homes for sale often sell within a few weeks or even days. This means that a house that has been on the market for several weeks or months may be overpriced or have other challenges associated with it (like a seller that doesn't really want to sell). Also, if there are no showings scheduled, it is likely that the home is overpriced and hasn't been generating much interest from buyers.
#3 - Look at upgrades and renovations.
There are many upgrades and renovations that can increase the price of West Chester or Liberty Township homes. The more extensive the upgrades and renovations, the higher a price a house will command. A brand new kitchen, an in-law apartment or a luxury master suite are among the additions that you'd expect to add significant value to a property. At the same time, some sellers might over-estimate how much value these additions really add, and as a result – overprice their home. West Chester and Liberty Township sellers might list their home at a higher price to recoup their investment, only to find that sellers aren't looking for those renovations. To determine if that's the case, see tips #1 and #2 above.
#4 - Location, location, location!
Are you tired of us saying that yet? It's the most overused term in real estate, but it's overused for a reason. Location is really one of the most important factors in determining a home's value. The same home in a good area could command a far higher price than the same home in a less desirable neighborhood. If a property is in a good school district, for instance, it's more likely to command a premium than elsewhere. Keep in mind your long-term priorities. If being in a good school district doesn't matter to you (say, for instance, your children are grown and no longer need public schooling), then you should be wary of paying up for homes in these areas. Someone else will, but it doesn't have to be you.
#5 - See how many page views the online listing has gotten.
By some estimates, 9 out of 10 buyers begin their real estate search online. This means high traffic volume to real estate websites! Most online real estate sites will tell you have many people have viewed the listing or "favorited" the listing to save for review at a later date. Many people will filter their search by price relative to other criteria, so West Chester and Liberty Township houses for sale that are overpriced will generate less online foot traffic.
It wasn't long ago (2005-2007) that homebuyers stretched far beyond their means to get the house they wanted. Then, when the market tanked (2008-2010), lots of people found themselves underwater, owing more on their mortgage than the home was worth. Don't fall into the same trap! The real estate market is approaching the peak from a decade ago—the last thing you want is to fall in love with a Butler County, OH home for sale that's similarly overpriced.
Use these tips to help navigate the waters and when in doubt, always be sure to call on one of the top real brokers in West Chester and Liberty Township for advice!